White footwear is a basic wardrobe essential. This versatile colour complements practically every ensemble, making it an excellent option for daily wear. The downside is that the slightest stain seems magnified on white shoes, making them appear old and quickly faded.
If you've been thinking of keeping aside your whites for work around your house or relegating them to the back of your closet, think again! While cleaning white shoes may seem tricky, a few household products and a little patience can go far. The Love Your Shoes team has cleaned thousands of shoes–check out our shoe cleaning and repair gallery here– and we've got some advice to restore your white shoes to their original beauty. Before you begin, double-check the material of your shoe, read directions, and gather together your cleaning supplies.
Consider the Shoe Material
The material from which your shoe is made will play a critical role in cleaning your shoe.
| | |
| --- | --- |
| Shoe Materials | Cleaning Methods |
| Leather, rubber, or plastic shoes | Magic erasers for deep stains and micellar water for normal ones |
| Fabric shoes | Easiest to handle. But if the fabric has mesh, be careful. Don't use anything harsher than a toothbrush. |
| Faux leather shoes | Baking soda or toothpaste |
| Sporty shoes (white sneakers or joggers) | Soap and water work well |
Now that you've had that quick sneak peek, let's get into the nitty-gritties!
How to Clean White Canvas Shoes
Cotton canvas shoes have a vast 'appetite' for dirt and stain. Here's the lowdown on keeping your white canvas shoes spotless.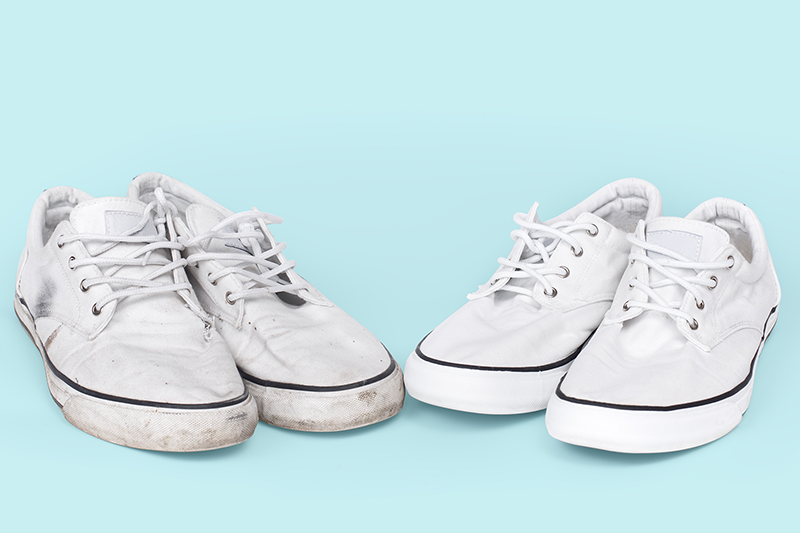 What You'll Need
A toothbrush
3 tbsp. baking soda
1 tbsp. white vinegar
A soft cloth or paper towel
A bleach pen
An eraser sponge
Untie the shoelaces to access all shoe components. 
Take the shoes outside and tap the soles to dislodge caked-on dirt or mud. 
Scrub the shoes using a dry toothbrush or tiny, soft-bristled brush. 
Brush the soles and tongue edges.
Clean Shoes with Baking Soda and Vinegar
Make a paste with baking soda and white vinegar.
Scrub the shoes gently with the paste using the toothbrush.
Let the paste solidify and dry thoroughly.
Now, brush off the bigger particles and clean the residue with a soft cloth or paper towel.
For stubborn stains, use a bleach pen and wash with hot water and detergent after five minutes.
Scrub the rubber sole with a magic eraser. 
Wipe the shoes with a damp cloth or paper towel. 
Air-dry them before wearing.
How to Clean White Leather Shoes
Follow these procedures to refresh white leather shoes.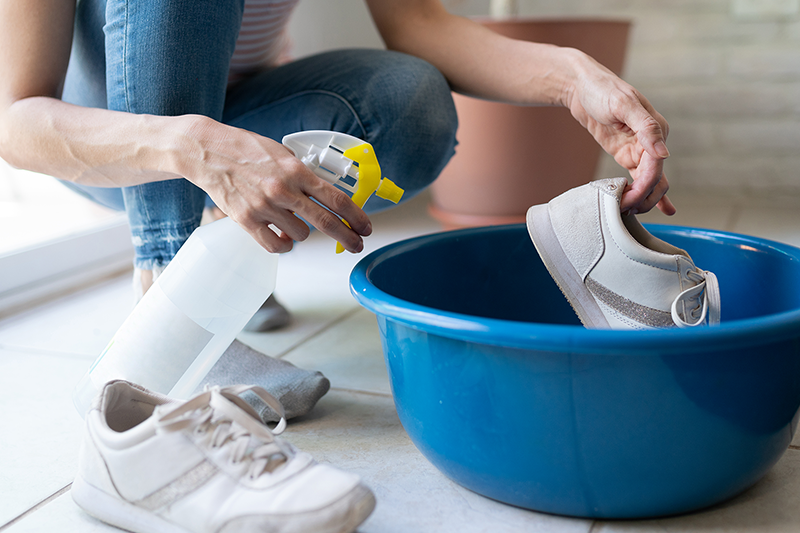 What You'll Need
A toothbrush
Liquid dish soap
1 cup warm water
An eraser sponge
A soft cloth
White paper towels
Clean Shoes with Soapy Water
Remove shoelaces from the shoe.
Use a dry toothbrush to remove dirt. 
Mix dish soap into warm water. 
Scrub shoes with a soapy toothbrush.
Use an eraser sponge to remove scuffs and stains. 
Wipe shoes with a wet towel. 
Stuff shoes with white paper towels to absorb moisture and hold shape.
Remember!
Cleaning agents that use alcohol or other harsh abrasives can do more damage than good. Sometimes, it can lift patches off the leather coating. Cleaners and conditioners made for cleaning leather interiors of cars or sofa sets may sometimes be worth exploring if you possess an expensive pair of leathers. Before you wear them, it's advisable to spray leather shoes with a protectant to prevent stains in the first place and respray every few weeks.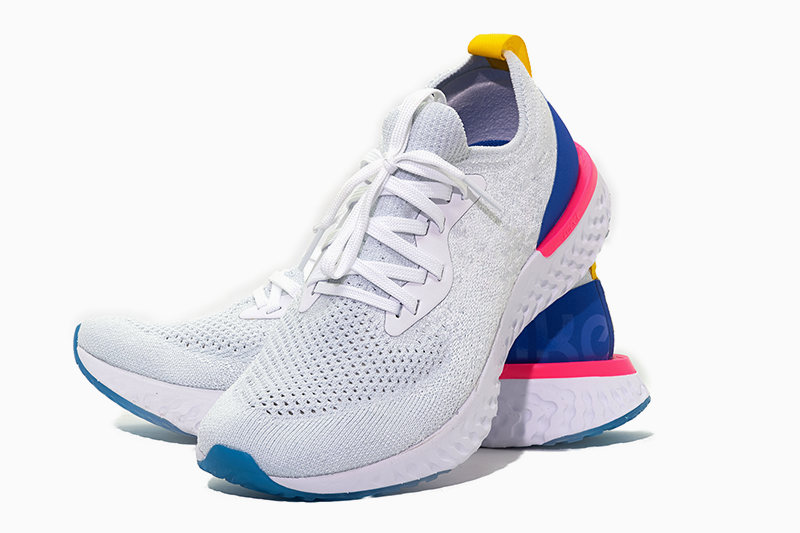 What You'll Need
A toothbrush
1 tbsp. liquid laundry detergent
Warm water
A soft cloth
A bleach pen
An eraser sponge
White paper towels
A fragile fabric that's readily snagged, mesh sneakers will need a gentler touch than canvas.
Use a dry soft-bristled toothbrush to remove dirt off the shoes.
Clean Shoes with Soapy Water
Make a cleaning solution by adding liquid laundry detergent to warm water. 
In circular motions, apply this solution to the shoes with a toothbrush. 
Rinse the cleaning cloth with warm water to avoid spreading dirt or stains. 
For grass stains or ground-in dirt, use a toothbrush, soapy water, or a bleach pen.
Avoid submerging mesh shoes in water as it could ruin their form. 
Wipe the shoes with a wet towel. 
Fill the shoes with white paper towels to retain their form and let them air-dry.
How to Clean White Suede Shoes
Being a delicate fabric that stains readily, keeping suede shoes clean can be challenging. To downplay the dirt, most manufacturers make suede shoes off-white rather than white. However, like pure whites, off-whites too are susceptible to staining. Here's how you can gently and effectively clean suede shoes.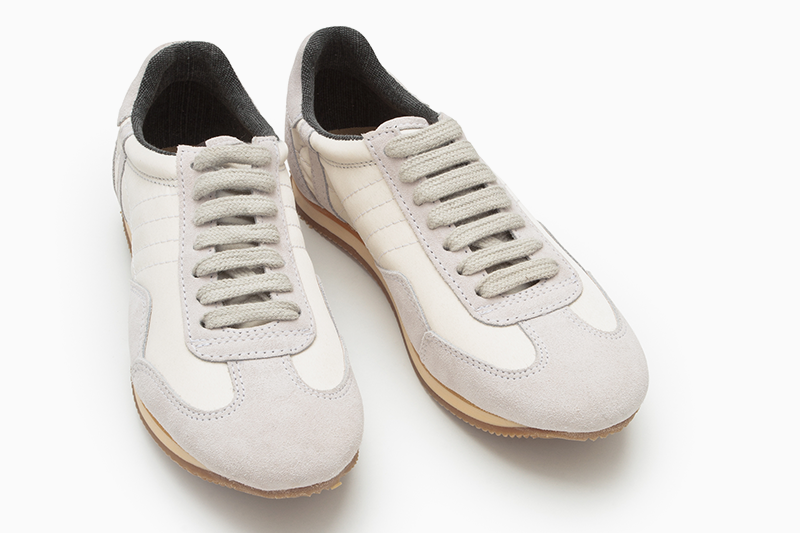 What You'll Need
A soft cotton cloth
A suede/pencil eraser
White vinegar
A suede brush
Blot your shoes with a soft cloth to remove moisture.
Gently rub stains with a suede eraser or a colourless pencil eraser. If this doesn't work, gently rub a nail file back and forth over the dry stain.
You can also rub the dirt out of suede with a slice of stale bread! Make sure the bread is stale enough to be hardened and rough, so it can effectively buff out the stain.
Place a paper towel onto any wet stain and apply pressure.
Make sure not to rub the dirt and stains, as they could spread across the shoe.
Get Rid of Remaining Stains
Dip a soft cloth in white vinegar and gently rub off any remaining stains.
Allow your shoes to dry out.
Rub the outside of each shoe with a suede brush to bring back its velvety texture.
Tips to Maintain Clean White Shoes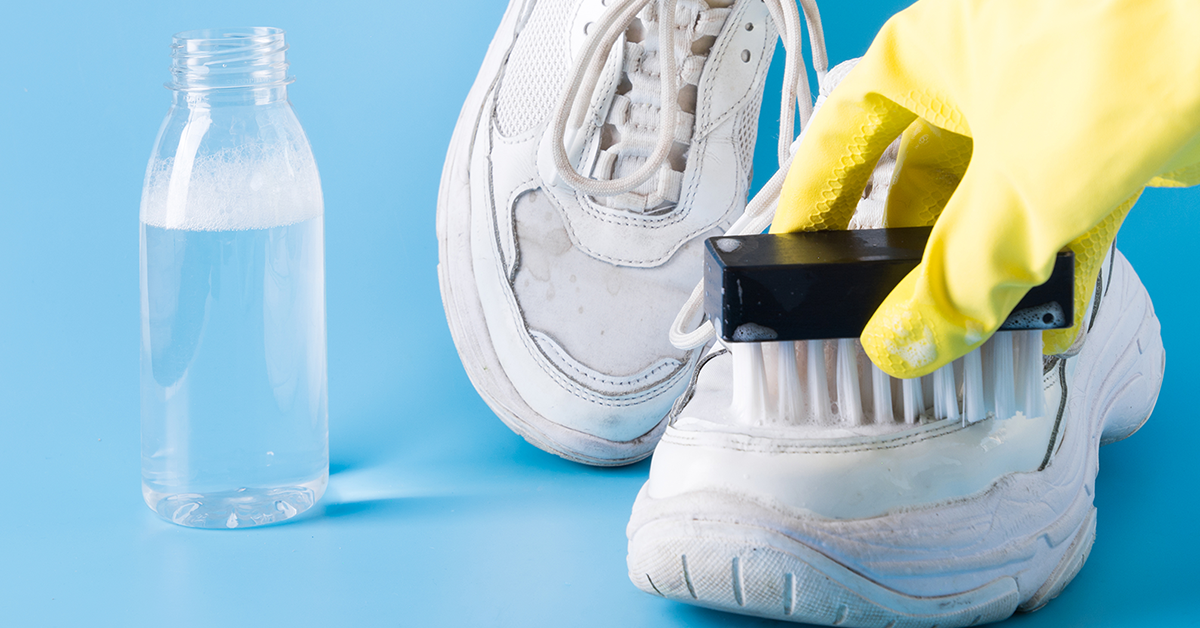 Prevention is the best way to keep your shoes white and clean. Instead of waiting for your white shoe to become grubby, make it a practice to clean them regularly instead, as this will prevent the dirt from becoming entrenched in the shoes. Here are a few quick tips from our shoe cleaning team at Love Your Shoes.
Before wearing your new white sneakers for the first time, spritz them with a stain-and water-repellent spray.
Make it a habit to spot-clean your shoes. 
Use dish soap to remove any stains or scuffs as soon as you see them.
Keep a magic eraser on hand since it can be a go-to tool for keeping your whites white.
Periodically remove your shoelaces and gently wash them in a soapy solution bath.
Remember to spot clean the areas between the shoelaces.
If there's a long gap between wears, store your shoes in a shoe box.
Also Read: Tips to keep your feet smelling good
How Love Your Shoes Can Help You Clean Your White Shoes